NCP Secure Android Client

Simple and Highly Secure Remote Access via Internet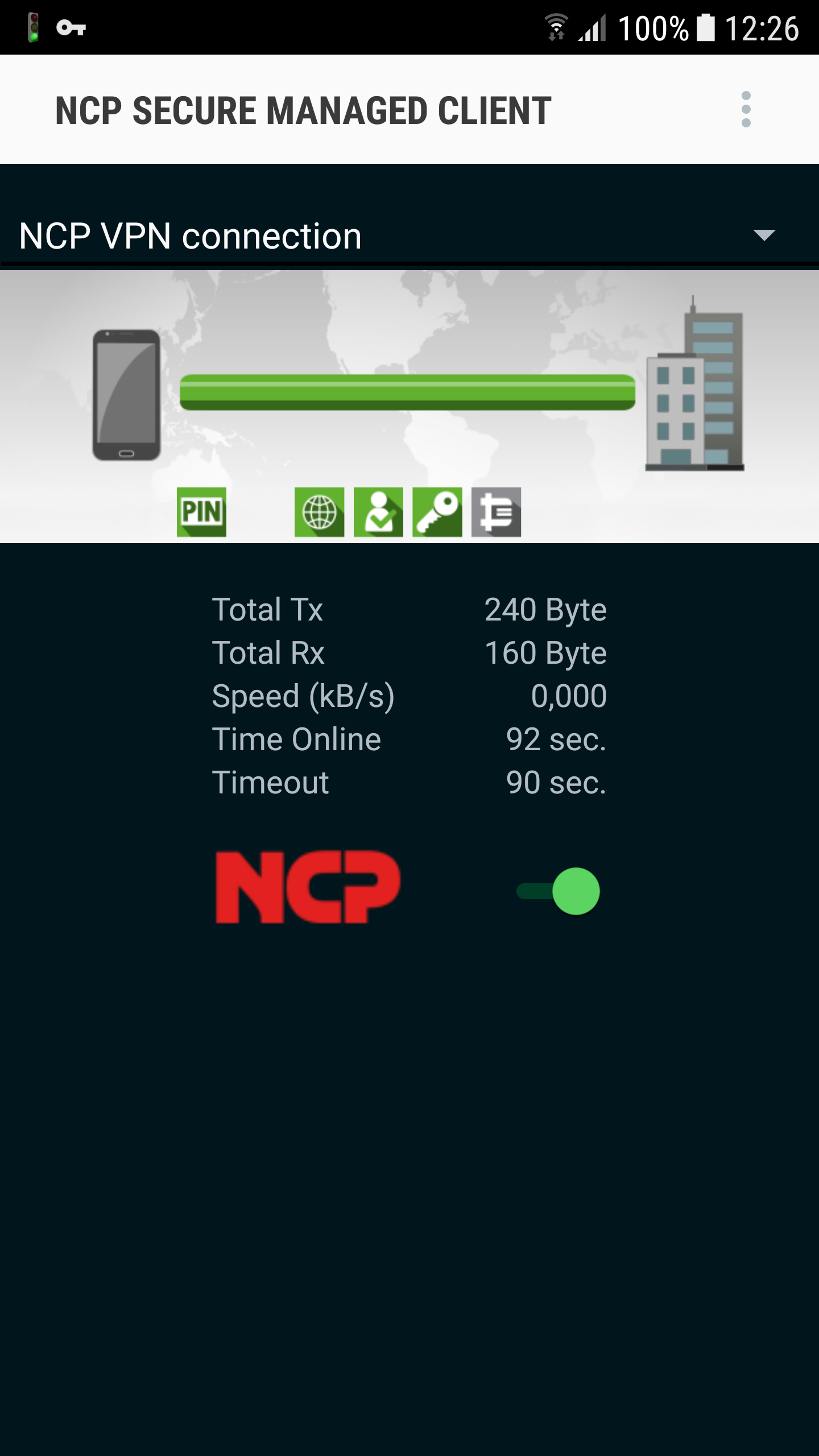 NCP Products
NCP Universal VPN Client Suite
NCP Secure Android Client Volume Edition, 5 to 24 users
Including License Management (VLS) *Price per user. Quantity must be 5 or greater
#VNWAPC1
Get a Quote!
NCP Secure Android Client Volume Edition, 25 to 49 users
Including License Management (VLS) *Price per user. Quantity must be 25 or greater
#VNWAPC2
Get a Quote!
NCP Secure Android Client Volume Edition, 50 to 99 users
Including License Management (VLS) *Price per user. Quantity must be 50 or greater
#VNWAPC3
Get a Quote!
Pricing notes:
Pricing and product availability subject to change without notice.
For more than 100 users, please use our Quote Request Form!
Overview:
NCP's Secure Clients for Android are available for mobile end-devices with the operation system Android 4.4 and above. The clients are easy to use and provide highly secure Remote Access to the company network. They are compatible with all common third-party IPsec VPN gateways including Cisco, Juniper, Check Point, Fortinet, SonicWALL, Netgear, D-Link, Microsoft Server, Sophos (Astaro), and ADTRAN. The NCP Secure Android clients are also available with the NCP Volume License Server.
You can choose between two versions:
NCP Secure Android Client Basic
NCP Secure Android Client Premium
Features:
Support of Widgets
IKEv1 (Main Mode, Aggressive Mode), IKEv2 support
IP address assignment via local IP address/manually or IKE config mode
XAUTH on/off
Split/full tunneling network access
Pre-shared key
PKCS#12 certificate support
One-time-password support (OTP support)
Auto reconnect mode - After starting the VPN connection the client will always try to reconnect after interruption of a Wi-Fi or cellular connection, until the connection is manually disconnected by the user.
Configurable connection mode (always, manually)
Profile import of *.pcf, *.wgx, *.ini or *.spd files
NCP VPN Path Finder® Technology
FIPS Inside
Benefits:
Easy administration
Low training costs
Modularity and scalability
Fast availability of cutting-edge technologies through software updates
Fast return on investment (ROI) through low operating costs (total cost of ownership TCO).
High usability for users and administrators
NCP Path Finder Technology: Remote Access despite blocked IPsec connections
License management
Technical Data:
Secure Entry Client for Android: Technical Data
Operating System
Android 4.4 and above
License Management
Distribution of licenses by the Volume License Server
Standards
Support of all Internet Society IPsec Standards
Virtual Private Networking
IPsec (Layer 3 Tunneling), RFC conformant; IPsec proposals can be determined by the IPsec Gateway (IKE, IPsec Phase 2); Event log; Communication only in tunnel; MTU Size Fragmentation und Reassembly; DPD; NAT-Traversal (NAT-T); IPsec Tunnel Mode
Encryption
Symmetric processes: AES 128,192,256 bits; Blowfish 128,448 bits; Triple DES 112,168 bits; Dynamic processes for key exchange: RSA to 2048 bits; Seamless Rekeying (PFS); Hash Algorithms: SHA-256, SHA-384, SHA-512, MD5, DH Groups 1, 2, 5, 14-18
FIPS Inside
The NCP Secure Android Client uses an embedded FIPS 140-2-validated cryptographic module (Certificate #1747) running on an Android platform per FIPS 140-2 Implementation Guidance section G.5 guidelines. FIPS conformance will always be maintained when any of the following algorithms are used for establishment and encryption of the IPsec connection:

Diffie Hellman Group: Group 2 or higher (DH starting from a length of 1024 bits)
Hash Algorithms: SHA1, SHA 256, SHA 384 or SHA 512 bits
Encryption Algorithms: AES with 128, 192 or 256 bits or Triple DES

Authentication Processes
IKEv1 (Aggressive und Main Mode), Quick Mode; XAUTH for extended user authentication;
IKE Config Mode for the dynamic assignment of a virtual address from an internal pool
(private IP) ; PFS
IKEv2
Pre-Shared Secrets
Strong Authentication
PKCS#12 Interface for using User (Soft) Certificates
Multi Certificate configuration
One-Time Passwords and Challenge Response System; RSA SecurID Ready
Network Protocol
IP
Auto Reconnect
A connection is automatically established if the Internet connection has been interrupted or the communication medium has changed from WiFi to mobile data transmission. Configurable connection mode (always, manual)
VPN Path Finder
NCP VPN Path Finder Technology, Fallback IPsec /HTTPS (Port 443) when port 500 or UDP encapsulation can not be used (prerequisite: NCP VPN Path Finder Technology required at the VPN Gateway)
IP Address Assignment
DHCP (Dynamic Host Control Protocol); DNS: central VPN gateway selection using public IP address allocated by querying a DNS server
Line Management
DPD (Dead Peer Detection) with configurable polling interval; Short Hold Mode; WLANRoaming (Handover); Timeout
Data Compression
IPCOMP (lzs), Deflate
Other Features

UDP encapsulation
Import function supporting file formats:*.ini, *.pcf, *.wgx und *.spd

Internet Society RFCs and drafts
RFC 2401 –2409 (IPsec), RFC 3947 (NAT-T negotiations), RFC 3948 (UDP encapsulation), IP Security Architecture, ESP, ISAKMP/Oakley, IKE, XAUTH, IKECFG, DPD, NAT Traversal (NATT), UDP encapsulation, IPCOMP
Client Monitor
Intuitive GUI
English; Connection control and management, connection statistics, log files; trace tool for error diagnosis; traffic light icon indicates connection status
Android Devices and NCP Solutions:
Universal VPN Clients for companies of all scales for Android Tablets and Smartphones
Do you own a mobile end device running on the Android 4.x operating system? Would you like to use it to securely access data on the company network via VPN? If your answer to both questions is "yes", NCP developed the perfect software for you: the NCP Secure VPN Clients for Android.
The following VPN clients for Android end-devices are available:
NCP managed Android Clients
NCP Secure Enterprise Android VPN Client
NCP Secure Android Client Volume Edition
NCP Secure VPN Clients for Android
How to buy
specialist retailer / invoice
specialist retailer / invoice
Google Play / credit card
License Management
Yes
Yes
No
Configuration Management
Yes
No
No
Certificate Management
Yes
No
No
Multi-Tenancy
Yes
Yes
No
User
About 50 ot more
About 5 -50
Workstation
Management-Tool
Secure Enterprise Management
Volume License Server
No Tool
Managed Android VPN Clients
NCP's Secure Enterprise Android Client is part of the NCP Enterprise series and can be comfortably managed with NCP's Secure Enterprise Management. The client allows comfortable and highly secure remote access to the company network and it is compatible to IPsec gateways of various producers.
NCP's Volume License Server (VLS) is an additional tool for the Android VPN Client Volume Edition which is available for 5 + User. This tool simplifies license management.
NCP VPN Clients on Google Play
The VPN Clients NCP Secure VPN Client for Android and NCP Secure VPN Client Premium for Android are available on Google Play. The two IPsec VPN clients have been designed for private use or use in small scale environments containing only a small number of Android Smartphones or Tablet PCs. They are also compatible to all major IPsec VPN Gateways. Further information on NCP Google Play Store VPN Clients.